The local church began 2000 years ago when Jesus entrusted His followers with His message of holistic freedom and justice and instructed them to go and make disciples. Thread Church continues this rich tradition of sharing Jesus' good news, love, and power in the city of Seattle.
Thread is a non-denominational Christian Church founded on the teachings of Jesus. At Thread, we move at the speed of relationship. We are a church that meets around a table. It takes time to build trust and get to know people, but we believe gathering together weekly around a table with food and studying the Bible together is a great place to start.
Our vision is to be woven into the fabric of the community by actively serving the neighborhood we live in. There are extraordinary churches, non-profits, organizations and individuals that have been serving Seattle for decades. Our hope is to continually come alongside, partner, and support these organizations and lean in and listen to the needs of our neighborhood. Every month we focus on supporting one local hero or organization financially and practically.
If you would like to chat with our pastors or just meet up for coffee, please email our pastors at Justin@ThreadChurch.com or Kristen@ThreadChurch.com.
We gather in a loft space at the Sunset Electric Apartments on Pine Street in Capitol Hill. The Thread Loft is a place where we can host Dinner Parties + Game Nights, Community Events, local Recovery Programs, Art Walks, Weekly Sunday Gatherings and offer a safe space for people to gather, connect and build friendships.
If you are interested in using our space for a gathering or meeting, please email Justin@ThreadChurch.com.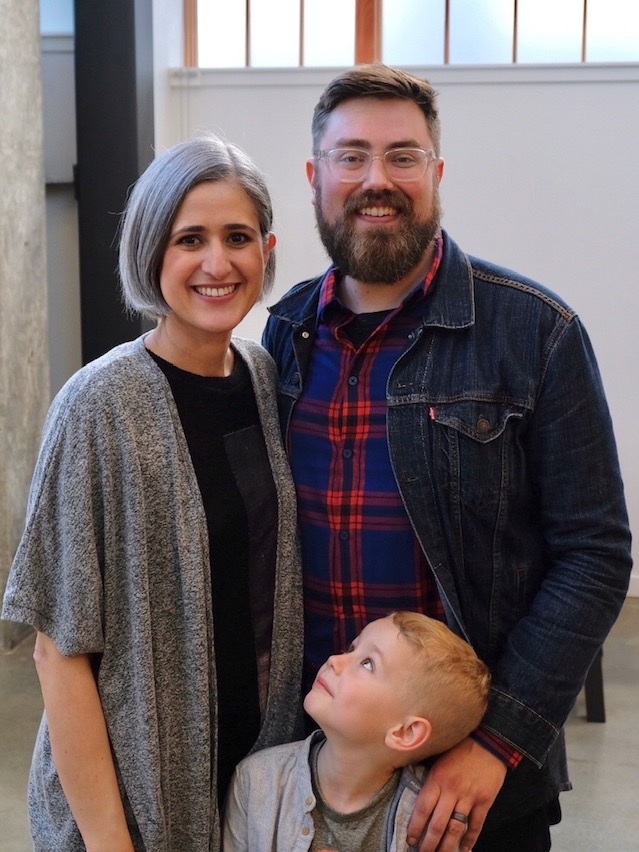 Justin + Kristen Tarsiuk are the community pastors of Thread Church. After spending the last decade living in Brooklyn, New York, and Los Angeles, California, they returned home to Seattle in 2017, the city where they met and fell madly in love with each other 19 years ago.
Justin and Kristen have been married for over 19 years, and followers of Jesus since they were teenagers. After working in ministry for over two decades, they found themselves wrestling with the expression of the modern western church. Over the last few years they have gone on a journey of asking new questions and seeking to understand what people are looking for at the intersection of faith, justice, and community. During this time of seeking God, and discovering neighborhood-focused church movements, such as the Parish Collective - the Tarsiuks realized they were not alone in their search. They also discovered a deeper love for Jesus, renewed passion for justice, and desire to serve the neighborhoods they lived in. Justin and Kristen sensed the Holy Spirit leading them to step out and make Thread Church a reality.
Justin and Kristen have a deep desire to see people find freedom, healing and restoration in every area of life through the good news that Jesus lived and gave His life for.
OUR BOARD
We value accountability and transparency. The Leadership of Thread Church is overseen and accountable to a board of women and men that have proven themselves in leadership, are spiritually mature, and display the qualifications of elders listed in the Bible. Below is a list of our governing and spiritual board members.
Governing Board
Julian & Christina Lowe, Oasis Church
Anthony & Bonnie Powell, Redeemed Life Church
Danny & Shuie Altizer, Business & Community Leaders
Spiritual Board
Paul & Andi Andrew, Liberty Church
Rob & Tina Scott, Business & Community Leaders